Our titanium bracelets are made of cp(commercially pure) grade 2 titanium, which is commonly used in the medical field and manufacturing spacecraft , aircraft, etc.
This is the most bio compatible titanium grade of all, it has a strong strength , low density, high hardness . high melting point and high corrosion resistance .
The weight of titanium material just half of stainless steel, so titanium is more ligh.
Our Products Cherish Your Health
Let us know how Hottime magnetic bracelet good for our health.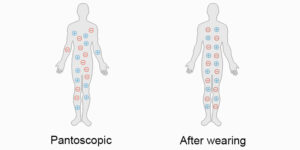 Pantoscopic : Work pressure ,lack of exercise,the body will positively and negatively charged electromagnetic radiation disorganized,reducing motor function,the formation of sub-health state.
After wearing : Current balancing effect of negative ions,positive and negative charges to restore the body balance,so as to enhance body functions,improve the sub-health state.